Discoveries preschool shared the joy of Christmas and adopted three local families this Christmas from St. Vincent's program.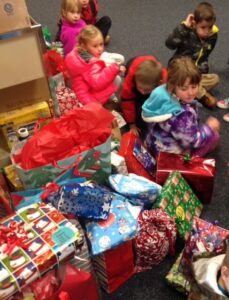 A Christmas tree bulletin board was posted in the entry hall and parents and children chose an ornament with names on them. The ornaments had clothing sizes for each family member.
The teachers spoke with the children in classes about how grateful we are that we have food, clothing and toys. We explained that other families in our area do not have these things and needed our help. Miss Dawn in the Mustangs reminded the class about the people we helped at Thanksgiving time when we went and delivered food to St. Vincent's food bank.
Our wonderful parents went shopping with their own children and talked about helping others this time of year. All the adopted families received gifts and clothing thanks to the generosity of our Discoveries families. The gifts were wrapped and put under the tree at the school. One special angel bought extra gifts in case someone was missed.
Miss Dawn and Miss Silvia took the Mustang class to deliver the gifts to the organization that takes care of these things. We talked about how we felt like Santa Claus and how nice it was that we could make some child happy at Christmas. We decided it would truly be wonderful if this happiness would last the whole year.