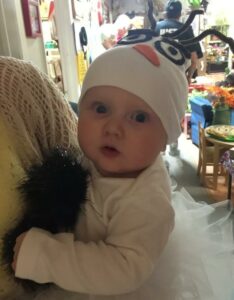 CATERPILLARS  are our youngest. They are ages 0 to 24 months. This calm yet cheery room is just right for your little bundle of joy. Many different types of play can be found here in our programs such as sensory play like bubbles.
Our Circle time curriculum for the Caterpillars consist of singing songs, reading stories for language development, and counting. Manipulative toys help with fine motor skills. Large motor skills are practiced in day care with the parachute and dancing is done with joy.
Their environment includes 3 areas. The first area has the important items to make sure your little ones needs are met. Our changing table and sink, for those diapering times, are both sanitized frequently. There are comfy rocking chairs for the time to rock, cuddle, soothe, and feed a baby.
The World Is My Classroom
Each Day Is a New Lesson
Every Person Is My Teacher
The feeding and kitchen area, sanitized daily, includes high chairs and a small size table. Our gated area is safe and spacious with plenty of room for your baby to crawl, toddle and play. Many age appropriate toys and equipment can be found for constant stimulation.
This is also where the babies sleep. A nap time is necessary for those busy little ones in child care. Children from infant to 2 years old have a rest time daily. Each family provides a playpen so babies can't disturb one another during this time. Cubbies to store baby items are also provided.
The Caterpillars have a lush grassy enclosed play yard for them to enjoy fresh air and the many wonders nature has to offer. This area is soft enough to be completely safe, yet expansive enough for babies to enjoy all the wonders of the great outdoors. It is right under one of our larger trees so shade is always in supply.
Discoveries Preschool and ChildCare
Discover your child's early learning success story.
Call (775) 425-2273 or Contact Us today!