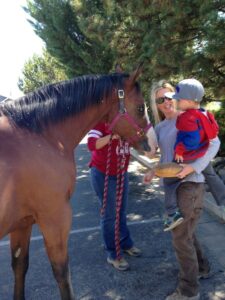 My name is Gina Lamarca and I am the owner of Discoveries Preschool and Childcare.
My background has always been in childcare and education. I attended Fresno State University and Fresno City College with a minor in child development.
I worked my way through college working at a local preschool for over four years. It was then that I realized I wanted to work with children and their families as a career.
Since then I have held such titles as assistant teacher, lead teacher, infant/toddler director, and center director in the last 10 years. I am presently the owner of Discoveries Preschool and Childcare and have been for the past eleven years.
My education and my teaching experience in the childcare field have given me the wear with all to be both the center director and infant/toddler director at Discoveries Preschool and Child Care.
I am very involved with my staff, parents, and the children on a daily basis.
Children are my passion and I believe they should enjoy their preschool years in a loving and safe environment. As a parent I understand not only the struggles of raising children but providing them with the best education possible at a very early age.
I believe our center provides a variety of learning opportunities and ideas to learn and develop their academic and social skills. The children at Discoveries Preschool and Child Care have the program necessary brought to them based on my incredible, and hard working staff and our creative whimsical environment .
I have been a part of the Spanish Springs community for over 22 years and I love being involved in all our local events and social activities that Sparks has to offer. The most wonderful part of our school is that being in business for over 22 years has allowed us to watch our children who have attended Discoveries become parents themselves and then bring their children back to our center.
I plan on continuing on making Discoveries Preschool and Child Care the number one preschool and child care center for children and their families for many years to come!
Please come in and we will gladly give you a tour so that you can meet our teachers, staff and see our incredible center and all that it has to offer.
Discoveries Preschool and Child Care
Discover your child's early learning success story.
Call (775) 425-2273 or Contact Us today!