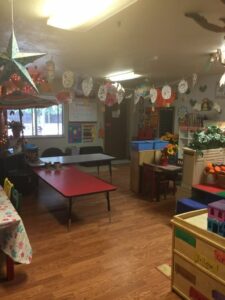 MONKEYS are our 4 year olds. As the children grow and change they continue to transition into our programs. This colorful pre kindergarten class has learning centers for fine motor skills.
Manipulatives such as Legos, notched logs, blocks and other colorful shapes fill the bins for exploration and experimentation. The home center continues to teach the children social skills of how to get along in the world. An indoor umbrella adds to the fun.
Our circle time curriculum continues to compound what they have learned in the previous years. We continue to add new letters and numbers. We also introduce new songs and books that are on a more difficult level for story time.  Following directions and listening skills increase the children's language development. Our Reading center introduces children to words and letters during child care.
An art center is for creating. Crayons, makers, and pencils add to fine motor skills practice. Puzzles are for learning problem solving, and a chance to stay focused in a fun and challenging way.  Outside the door is the large enclosed yard that is shared with other children 3-5 yrs.
The World Is My Classroom
Each Day Is a New Lesson
Every Person Is My Teacher
A rest/nap time is necessary for those busy little ones in our porgrams. Mats are provided and each child is encouraged to bring a blanket and stuffed friend to sleep with.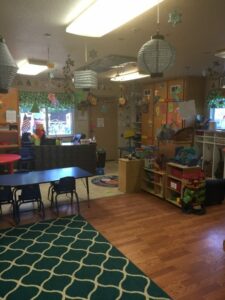 Alligators are 4 ½ yrs. This classroom is for those children ready to immerse themselves in a full academic curriculum. This classroom is not day care ,but is set up in learning centers such as dress up, home center, art, blocks, manipulative area, sensory table and a teachers table.  The art and manipulative activities are changed daily. A new number, color, shape and letter are introduced weekly. Crafts, games and hands on learning activities help to learn about the theme of the week.
Circle time is filled with theme based stories, finger plays, books songs and movement. Show and Tell are part of circle time. In this room we introduce the children to the teacher table. Each day the teacher table focuses on one subject so that the teacher can work individually with each child. All children are expected to participate at the teacher table.
Monday: Math (numbers, patterns and sorting)
Tuesday: Writing skills (proper pencil grip and tracing) Work sheets for writing lessons
Wednesday: Science
Thursday: Language Arts
Friday: Crafts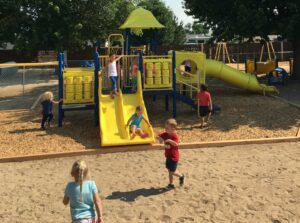 Both of these classes share the playgrounds with the other children 3-5 years of age. Here they run, use their outdoor voices, and enjoy
themselves on 4 fun playgrounds geared to the age and development of the children using them. Equipment is safe and meant for various uses of play.
A climbing jungle gym can turn into a rocket ship or a tent for camping. The wonderful mature trees give us shade and many lessons about science, math and language. A garden helps us understand trees, plants, flowers and food from plants, are necessary to live a healthy life. We recycle and encourage a concern for the earth we live on.
Discoveries Preschool and Child Care
Discover your child's early learning success story.
Call (775) 425-2273 or Contact Us today!