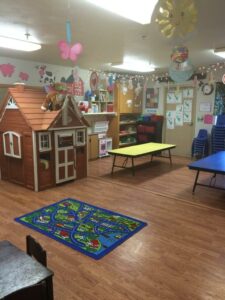 CUBS have a large and roomy classroom for those busy, on the move kids ages 2-3yr.  Busy is the key word. Our toddler program Cubs are full of energy! Circle time on rugs includes singing, finger plays and stories.
Many skills are practiced here in this day care. Vocabulary blossoms.  A sensory bin is always a fun way to learn pouring, digging and exploring different media. Some days it is sand and other times pasta.
Art is a large part of our programs. Large and small muscles are used to easel paint and hold markers and crayons. Creating messy master pieces are the most fun.
Toilet training is part of the toddler program. We follow parents' guidelines from home to make sure consistency makes this process as smooth as possible.  Our sink and changing table are cleaned daily. They are in the room to make things easier for the children as well as teachers.
The toddler program room is decorated as a horsey house and the children's artwork is always part of the décor. A playhouse and home center are for socializing and playing. Here curiosity and exploring takes place. Structured for age appropriate activities it is an energy filled area.
The World Is My Classroom
Each Day Is a New Lesson
Every Person Is My Teacher
We make sure to take a nap every day in our toddler program. We provide the mats, but the children need to bring in a blanket and a furry friend to sleep with.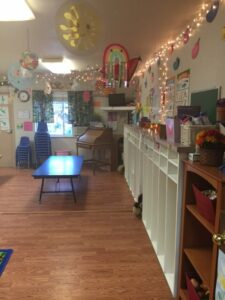 Cubs experience their voices and bodies in our two outside child care play areas. Each playground is tailor made for the children using it to make sure it is safe.
Our wonderful mature trees give us shade and lessons about science, math, and language.
A climbing jungle gym can turn into a rocket ship or a tent for camping. The lemonade stand may become a kitchen for an outside tea garden.
Music and dance are enhanced by our outdoor xylophone and music makers. Anything is possible when we take the Cubs outside to play!
Discoveries Preschool and Child Care
Discover your child's early learning success story.
Call (775) 425-2273 or Contact Us today!