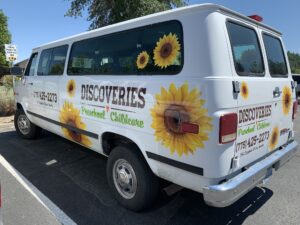 To and from transportation is provided by Discoveries Preschool and Childcare for your child to local schools and for adventurous field trips. The school owns three 15 passenger vans ready for the field trips and transporting students to and from the elementary schools as needed. All vans are equipped with first aid kits and fire extinguishers.
Seat belts are required for all children and drivers. Booster seats are provided for the young children who require them. Our staff are qualified safe and careful drivers. They are screened and passed by our auto insurance company to ensure the safest transportation. We are very mindful when we take children in the vans.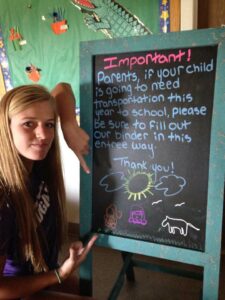 A binder with a student roster and policy/procedures accompanies all travel. Roll is called and all children are accounted for before we leave from Discoveries Preschool. We verify all the children are with us. We are ready to go when everyone is buckled up. We then check again before we are returning to the school.
If any questions arise about a child's transport plans the staff immediately calls the school. The school calls parent to confirm changes. Sometimes parents forget to notify school of special arrangements about a child's transportation. WE ALWAYS DOUBLE CHECK.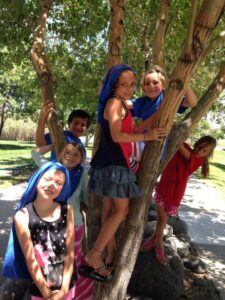 Field trips are a big part of our program. Our staff ratio is set to make all trips safe and fun. Parents are invited to join us for the field trips and can meet us at the location.
Children 5yrs. and older may attend these field trips. We ask students, parents and staff alike for their recommendations.
We visit children's museums and the planetarium for educational fun. Hikes in nature are refreshing as well as educational.
Water parks and local parks are always on the agenda as well as local kid activities. Roller skating, Jump Man Jump, miniature golf and bowling help to add to our fun curriculum. Seasonal activities such as pumpkin patch and corn maze make our time together more memorable.
Discoveries Preschool and Child Care
Discover your child's early learning success story.
Call (775) 425-2273 or Contact Us today!