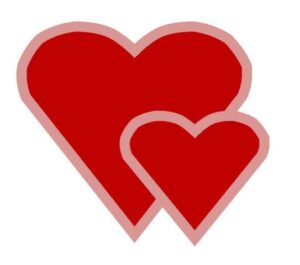 February was a loving place at Discoveries. Everyone shared love, food and fun. We had enough sweets and eats for all.
The Mustangs class celebrated with "100 Random Act of Kindness". We cut out 100 hearts and wrote kind acts through the month. We placed them on the outside of the Little Playhouse see we could remember how it feels when kindness happens. The Mustang students had a luncheon on Valentine's Day.
Thankfully the weather was nice and we held the luncheon outside. Many families donated food and supplies for the celebration. We even had some moms come and help Miss Dawn with the party. Thanks for all the food, supplies, help and LOVE. Our parents are the best
A new post office center opened in upstairs loft for the Mustang class. This helped the students practice writing skills, processing mail and delivering it to friends in the classroom. All the children decorated bags for the Valentine cards. Each child practiced writing their names on the cards.
The Mustangs made beautiful homemade Valentines for their families. Some of the Mustangs took them home by mistake early but we mailed the others to student's homes for a Lovely surprise.
Hope your Valentine's Day was full of love and joy spent with your loved ones.
February is also Dental health month!
The local dental office of The Smile Shop came at the end of the month to share with everyone how to keep our mouths healthy and happy.
They even gave everyone a toothbrush to take home for us to keep our mouths happy. Their pet puppy puppet showed us how to brush all parts of our teeth.